Arduino, Design Research, Experience Design, Project Management
Lume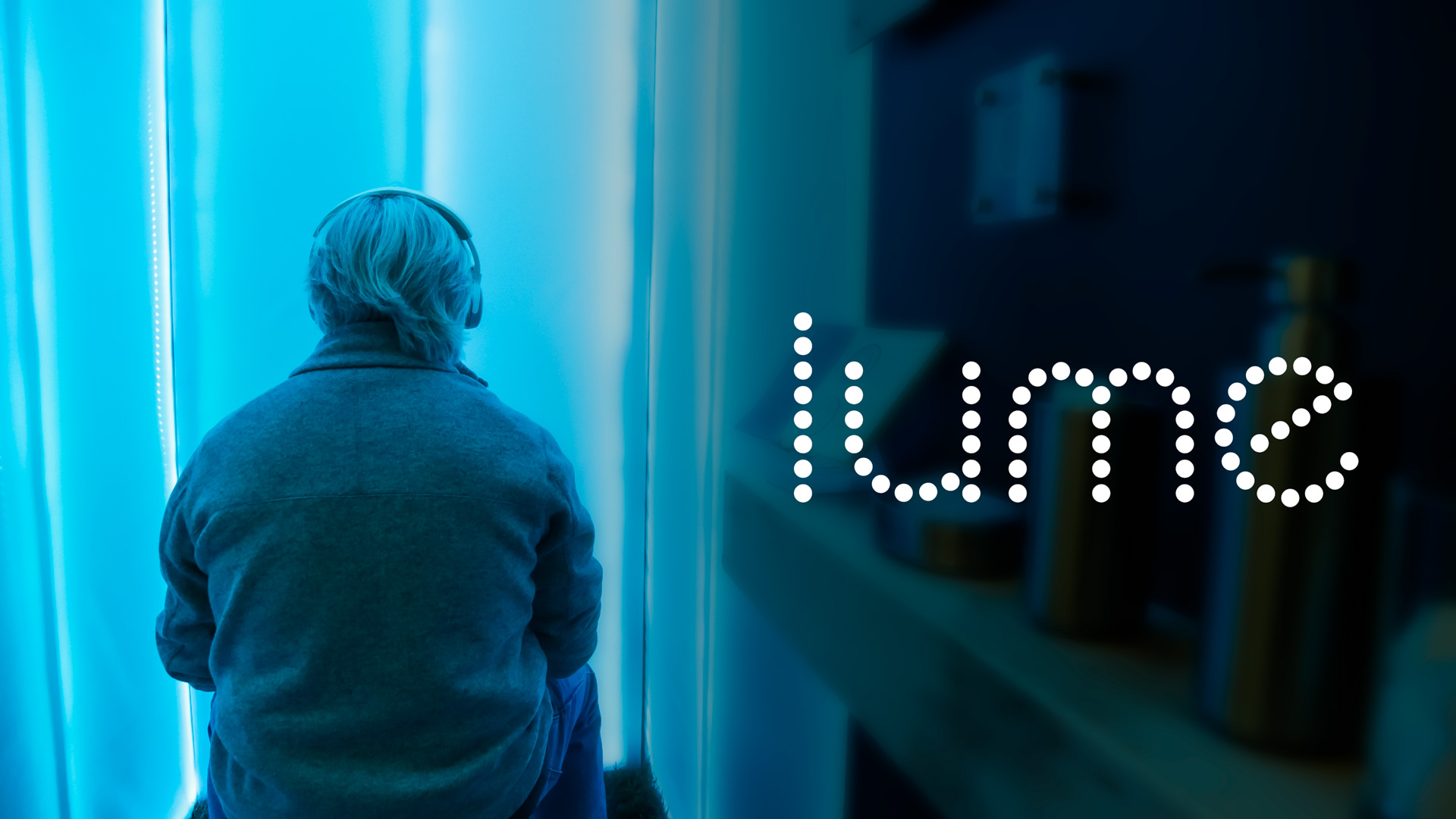 / Lume
Lume is an experience design project 'pop-up shop' focused on retailing a mock bio-sensing product ('biosensor') targeting the human stress response.
/ Role
Experience Design / Design Research / Project Management / Prototyping / Arduino

/ Restrictions
The aim of this project is to create a compelling retail experience 'pop-up' that engages all five senses within a 4'x8'x8' footprint.
/ Design Challenge
How might we create an engaging retail experience for a futuristic product?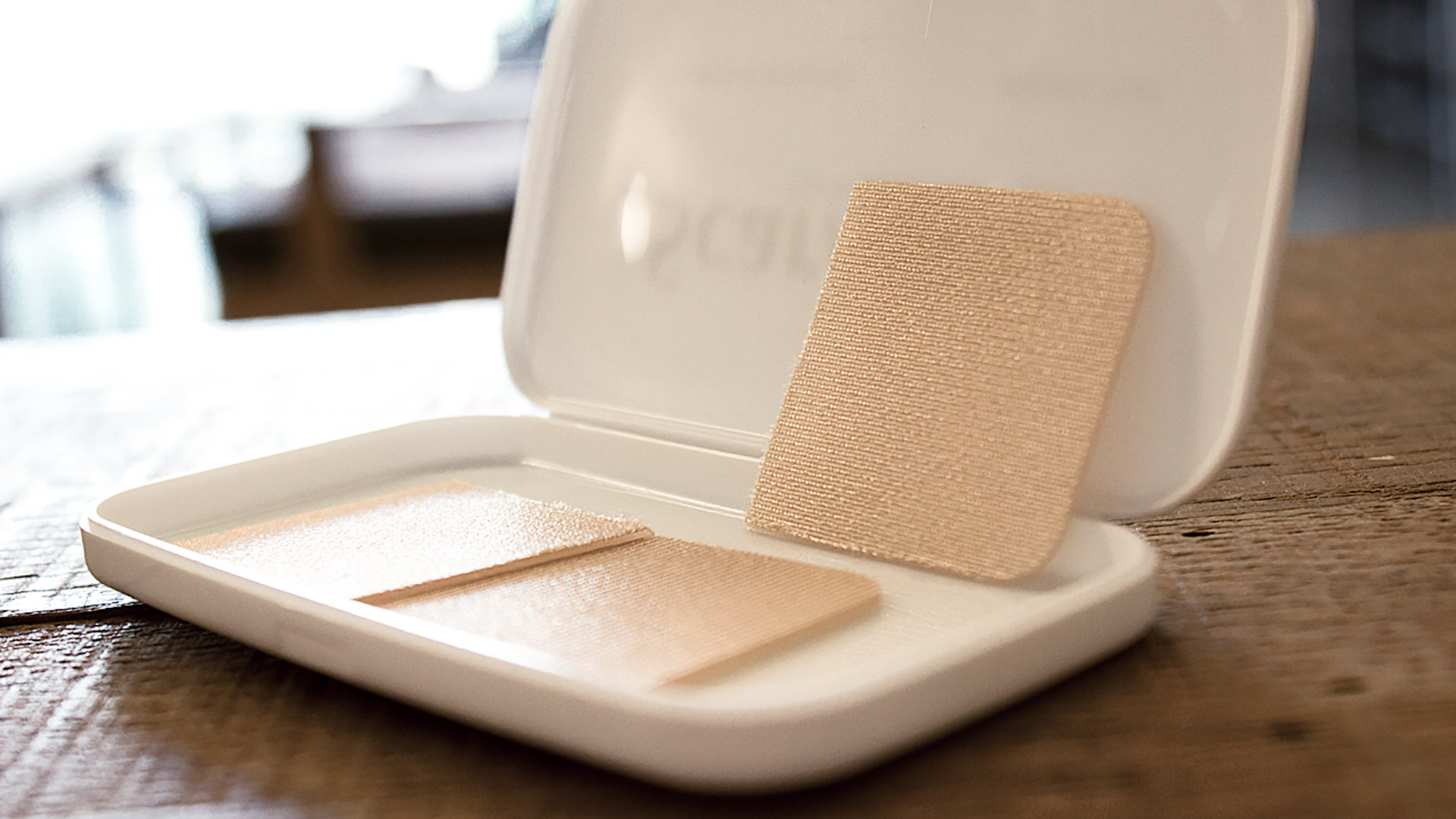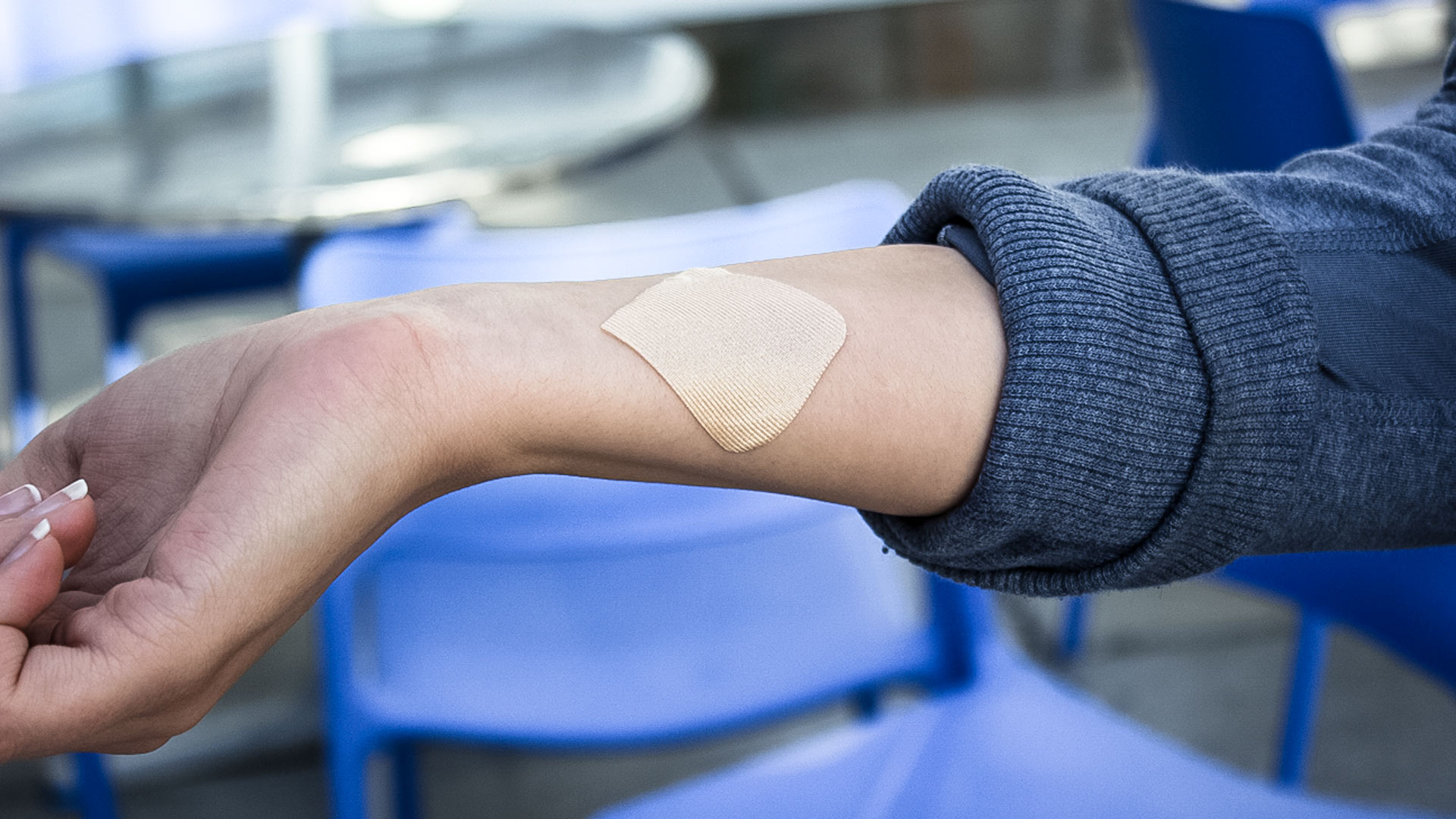 / Product
In the age of e-commerce, retailers must think outside the box to keep consumers coming back. But without a defined product, it's impossible to figure out a retail experience. Our first task was to create an analogous product (with narrative) for qualitative research. The product we were instructed to design a retail experience for was "biosensor," which could mean a lot of things. Companies like Fitbit and Apple make a wearable for monitoring exercise, heart rate, biomechanical function, etc. There are medical applications for biosensors – a good example is a glucose monitoring watch for diabetics from Dexcom. Startup company Fjord (formerly Chaotic Moon) is developing a "tech tattoo" that is a subdermal implant capable of monitoring the wearer's financial and medical information. These products could all be considered biosensors, but none of them seemed particularly useful to us. As such, we came up with a new biosensor.  
The American Psychological Association reports that Americans have an average stress level of 4.8 on a 10-point scale. Seventy-five percent of adults surveyed reported feeling one symptom of stress in the past month.
Our research showed that it is possible to monitor stress levels through galvanic skin response and hormone levels. Although it is technically possible to build a biosensor to monitor stress, that was not part of our mandate. We chose to model our mock stress biosensor after the MC10 BioStamp. The BioStamp is flexible and conforms to the body and is used to collect kinematic and electrophysiological data. We chose the BioStamp for two reasons: we like the BioStamp's market positioning as a professional data collection device and because the BioStamp's design closely resembles our vision for a market-ready stress biosensor.
/ Research
Working with a mock product makes user-centered research difficult. As such, we employed a semi-transparent square Band-Aid as an analogous product. We wanted to understand what people expected from our product so we conducted research. When we put the Band-Aid on participants they thought that the product would be good for collecting biomedical data including heartbeat, blood pressure, hormone levels and cortisol levels. When asked about the retail experience, participants thought the stress biosensor should be sold in a medical setting or a setting akin to the Apple Store; something sleek, modern, uncluttered and minimal. Participants wanted to be assisted in buying the product or "consulted with" by a salesperson who was also an avid user. We learned that the experience should be high touch or "testable"; seeing the product work was important. In terms of the look and feel of the product, the trend was toward less visible (on the skin), non-permanent and sold in clear packaging so that you can see what it looks like.
Side-note: The Band-Aid worked so well that a few participants were confused when we told them that it wasn't a working prototype.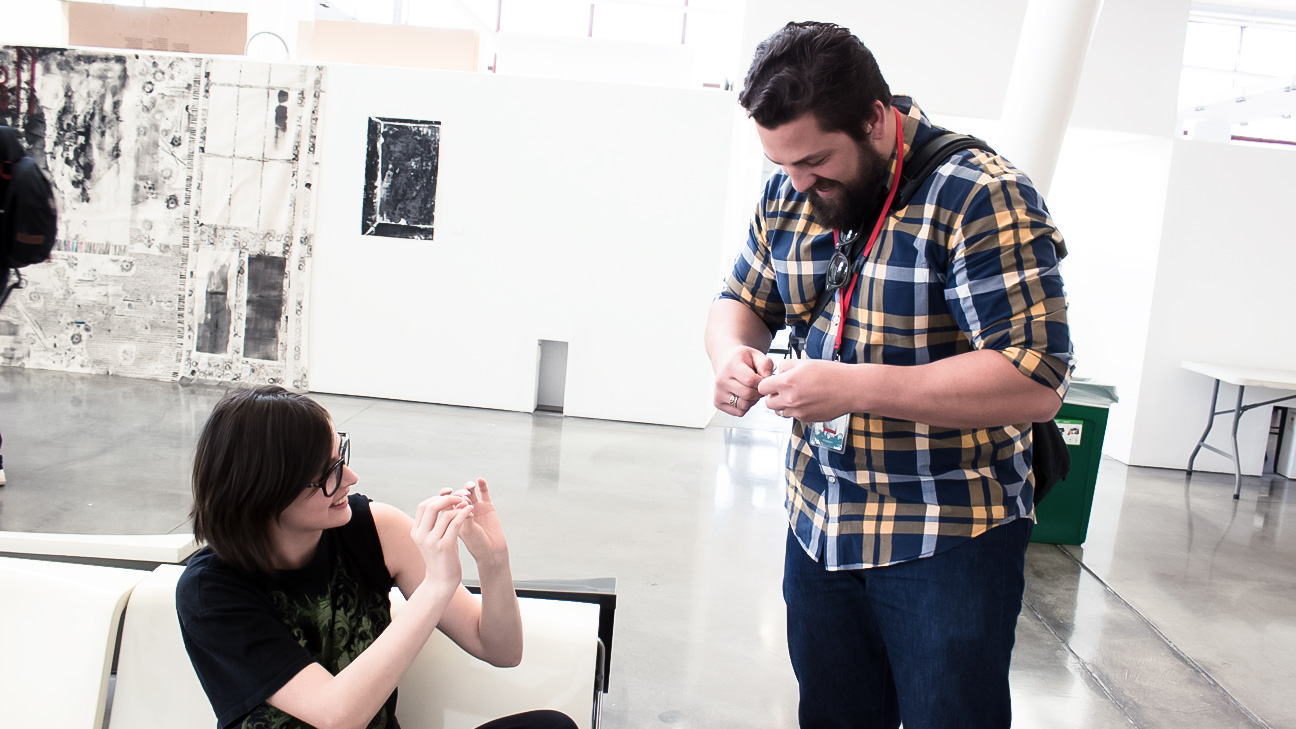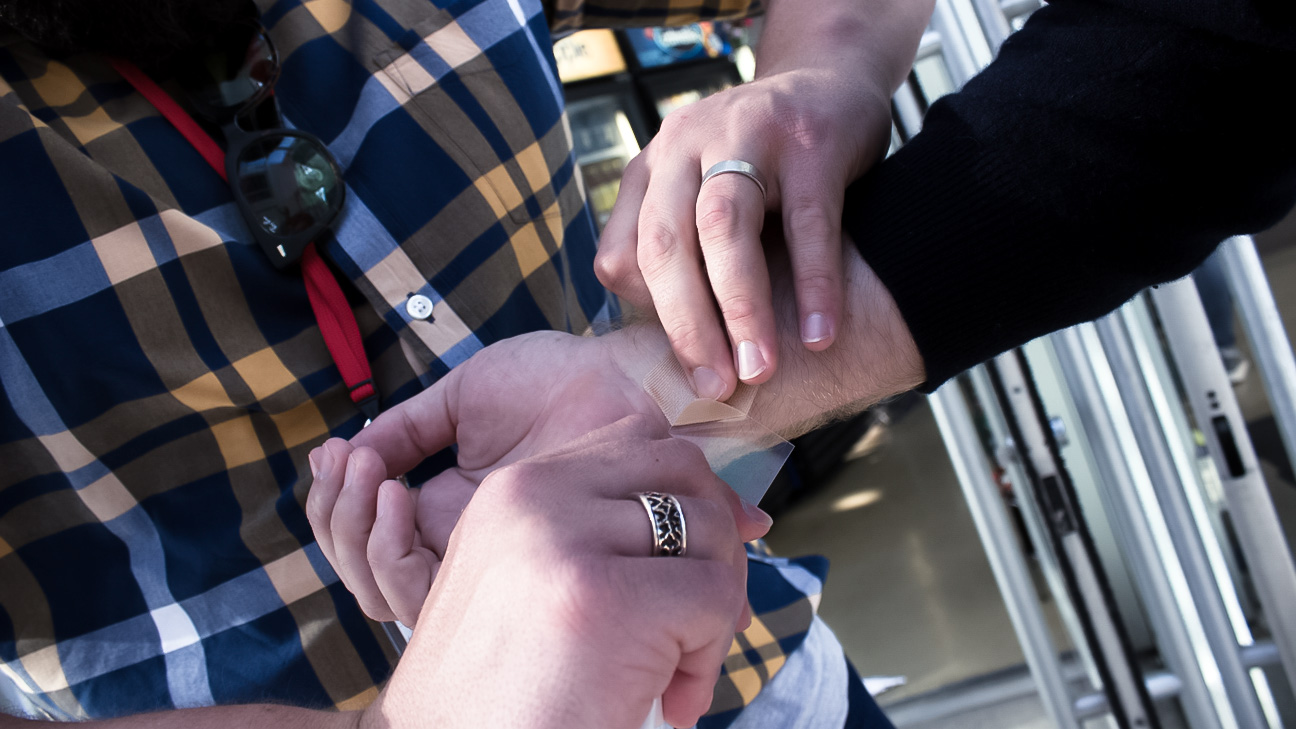 / People Problem Statement
To design the best experience, we began with a clear, validated people problem statement. A people problem arises from a broken or unsatisfying solution that gets at the "why" behind an observed phenomenon. For our stress biosensor, we looked at the analogous experience of purchasing a Fitbit and an Apple Watch. A key pain point that emerged during our initial research was lack of motivation and inevitably, dashed hopes. Participants indicated that they purchased their health wearable for actionable insights into their physical activity but were disappointed by the data collected and were therefore unmotivated to make changes. This key research finding led us to create the following people problem statement to drive the design of our stress biosensor retail experience:

/ Experience Mapping
To better understand the status quo retail experience, we conducted shop-alongs, observational research and intercepts at BestBuy while participants experienced shopping for a Fitbit. The following is the status quo or "what is" journey:

/ Observations
What we noticed is participants expected a knowledgeable employee to approach them in a timely manner to guide them through a hands-on, enlightening experience. Participants were disappointed when the employee lacked knowledge (especially about converting data insights into action); it took too long, and they were unable to try the device. There was no way for the employee to prove that the product worked. The only option was to turn it on and explain how data is collected. Overall, the experience was not relaxing – the lighting was harsh, the smell of electronics filled the air, the employee helping our participants was badgered by other frustrated customers throughout the experience and the employee pushed an expensive warranty near the end of the sale.
We created what we believe to be a better retail experience. Here is our "what if" journey map: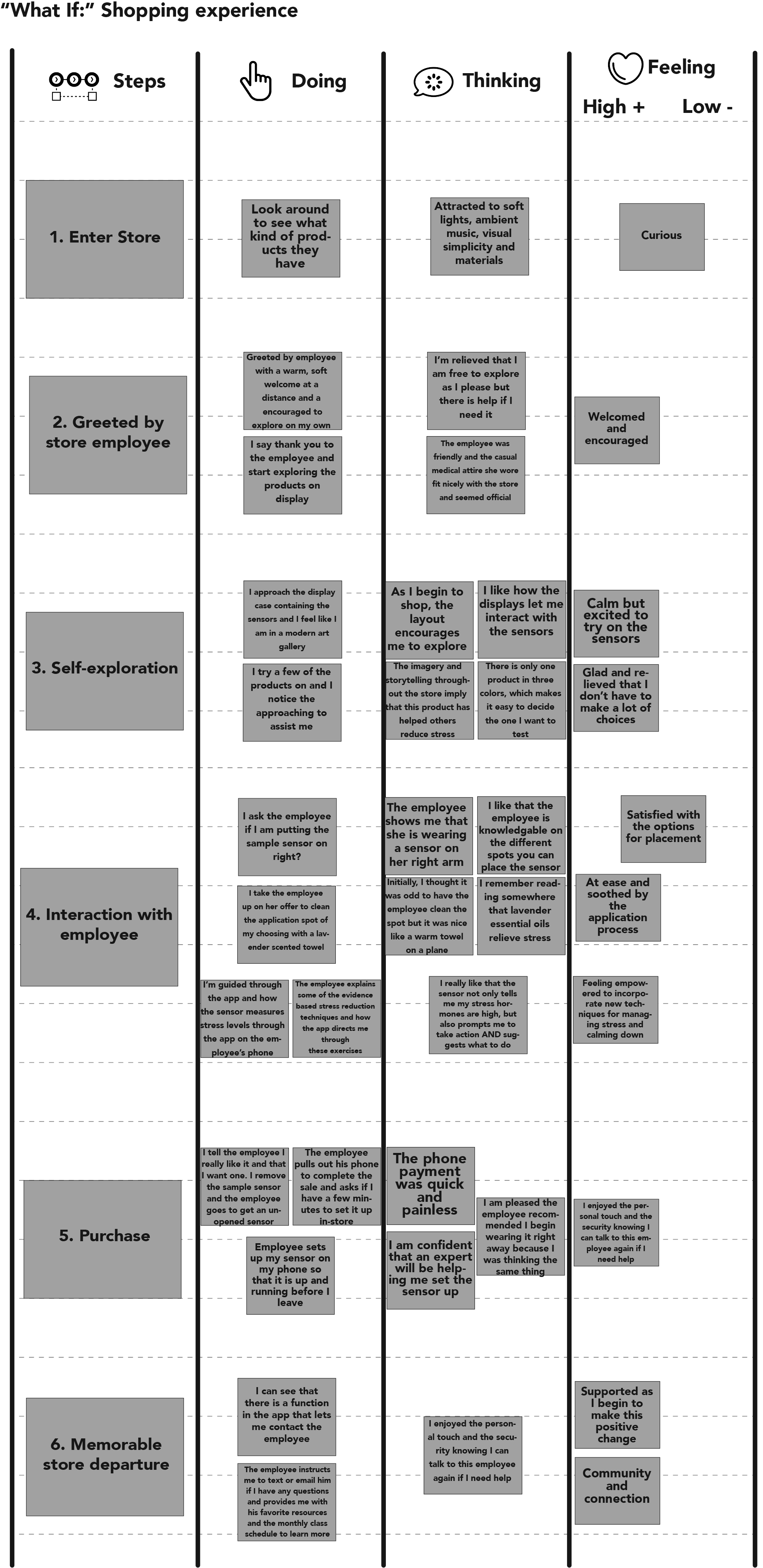 / Storyboarding
Storyboards are heavily used in film and television – the point of a storyboard is to focus on the beat of a story helping the user understand the story through visuals. So, after another round of research testing our "what if" journey map, we narrowed down an optimal experience and put pen to paper translating our research and ideation into a visual story that focuses on a signature experience. In short, a signature experience guides the overall design of the retail experience, it should be authentic, exceed the customers' expectations, engage their senses, emotions and most importantly their memory. We want customers to talk about this experience to others.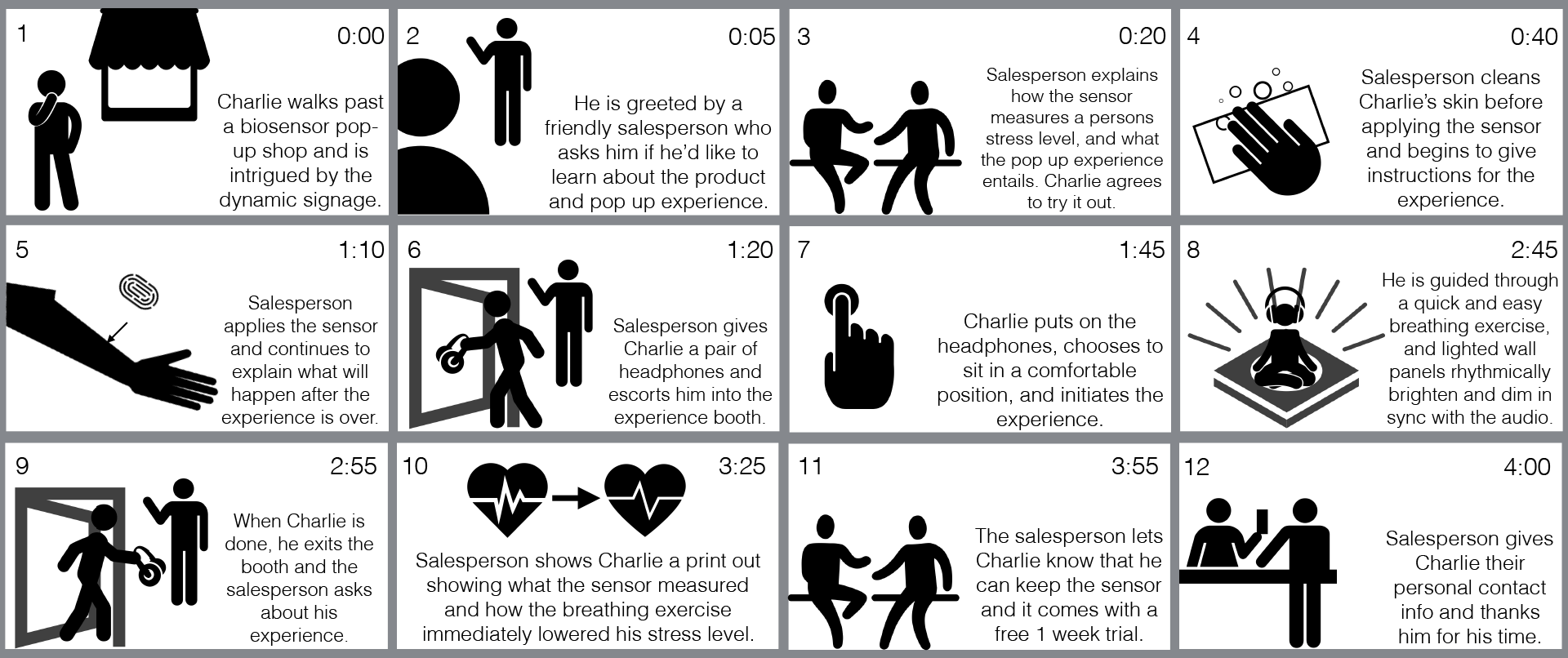 / Opportunity
Customers want a high touch retail experience in a minimal, chic, medical environment that is calming and free of distraction. The retail experience must offer the ability to fully test the product. Customers also want a place to come back to, a place that helps them maintain their desired goal, in this case, to reduce stress. Experience the future of stress monitoring technology – we proposed a pop-up "recharging station" where customers can demo a biosensor that measures their stress level and be guided through an immersive experience that produces immediate and visible positive results. Not only can new customers come here to buy a stress biosensor, they can also come here to relax and rejuvenate.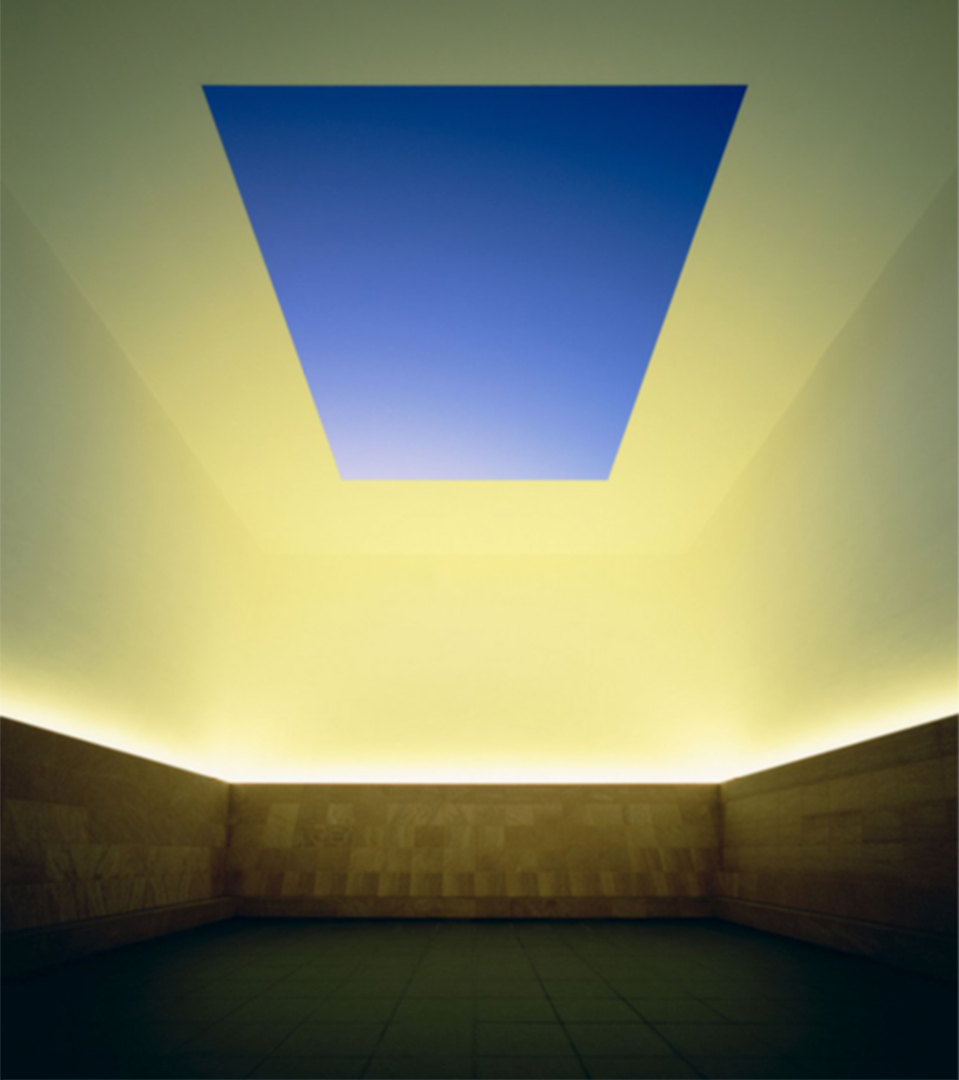 / Signature Experience
The signature experience of Lume is a guided meditation exercise conducted audibly and supported visually. A guided meditation is delivered to the participant through headphones, as the customer is asked to breathe in, the walls begin to glow a calming shade of blue. As the customer exhales, the lighting in the walls slowly fades out. The intent of the signature experience is to relieve the pain of not being able to properly test the product, a major pain point discovered during our initial research, hence providing the customer with verifiable evidence that the product works as intended. The experience is an authentic, engaging, soothing activity that will elicit positive memories about Lume.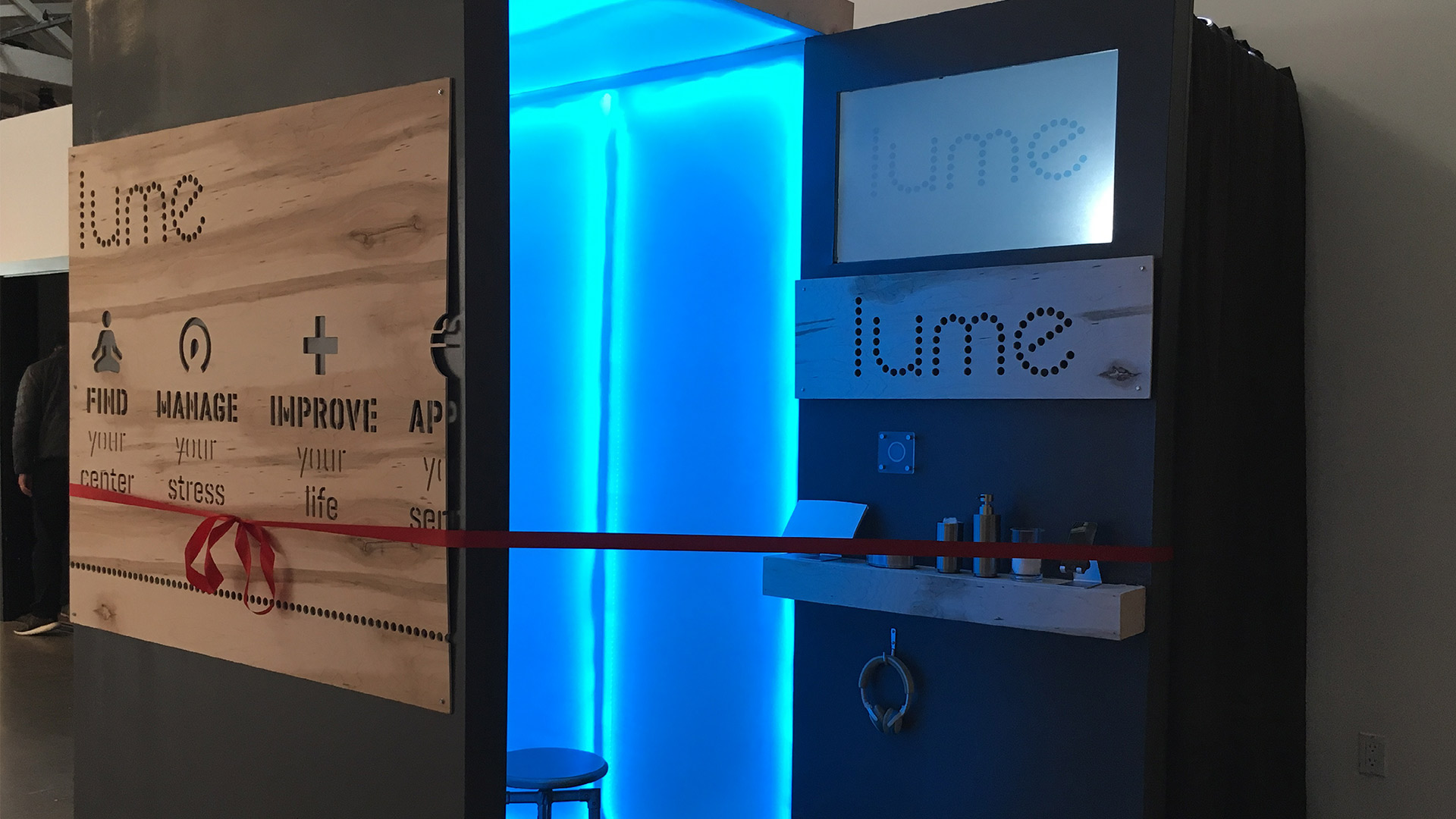 / Prototyping
Our retail experience consisted of two main areas. The signature experience area and the consultation area. To prototype our retail experience we built cardboard mockups and ran through the storyboard making minor tweaks as we gathered feedback from participants. Elements of the signature experience we wanted to prototype included positioning (sitting, standing, laying down), flooring, meditation audio and timing/pacing. Elements of the consultation area we wanted to prototype were the placement of shelving, materials, colors, smells, sales pitch (script) and appearance of sales staff (lab coat, footwear, casual/medical). Generally, we wanted to test our branding and signage as well.
We went through two rounds of prototyping and testing with real participants finally deciding on the following design specifications: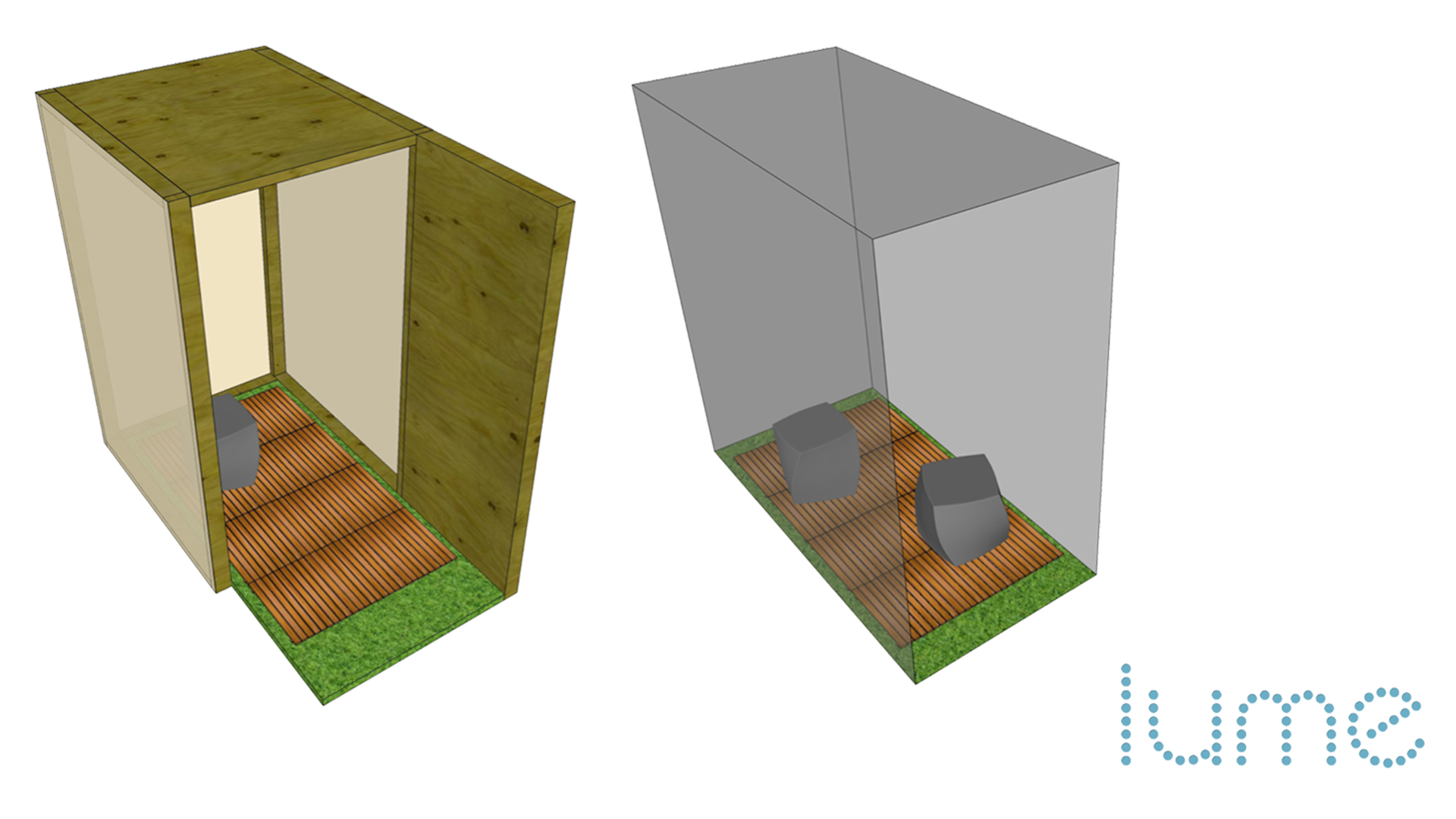 / Micropilot
The final means of testing a retail experience is through a micropilot. The idea behind micropiloting is to test hypotheses about your retail experience in a creative way. For our micropilot, we were mainly concerned with testing our signature experience area. The following are our hypotheses and findings.
/ Hypotheses
1. On a scale of 1-5, how did you feel before going into the signature experience area?
2. How do you feel after being in the signature experience area?
3. What do you think could have helped you become even calmer?
4. Did you have any challenges or distractions during the signature experience that prevented you from reducing stress?
5. What could we have done differently to make it a more calming experience?
6. How was the length of the experience?
7. If you had spent 5 to 10 minutes in the experience (the experience only lasts about 1.5 minutes), do you think the experience would have been more or less effective? Why?

/ Findings
1. Participants had no trouble understanding how the signature experience worked, or what to do inside the signature experience.
2. Participants felt the signature experience was effective in reducing stress.
3. Participants asked for clarification on whether their breathing should follow the glowing blue light or the breathing in the audio.
4. Participants expressed a desire for comfortable seating, soft flooring.
The micropilot alerted us to some problems with the breathing exercise script as such, we made changes to the breathing exercise instructions.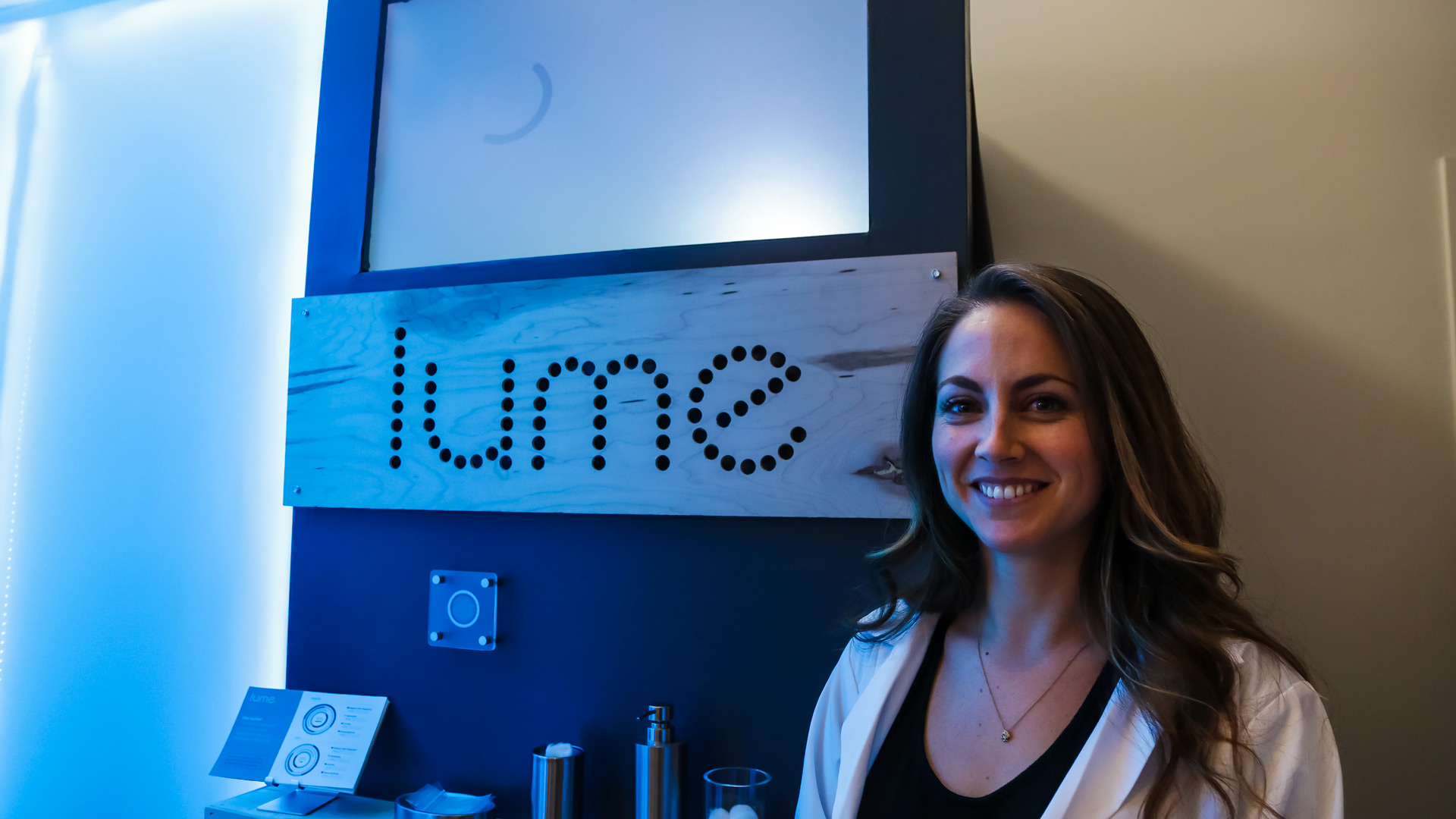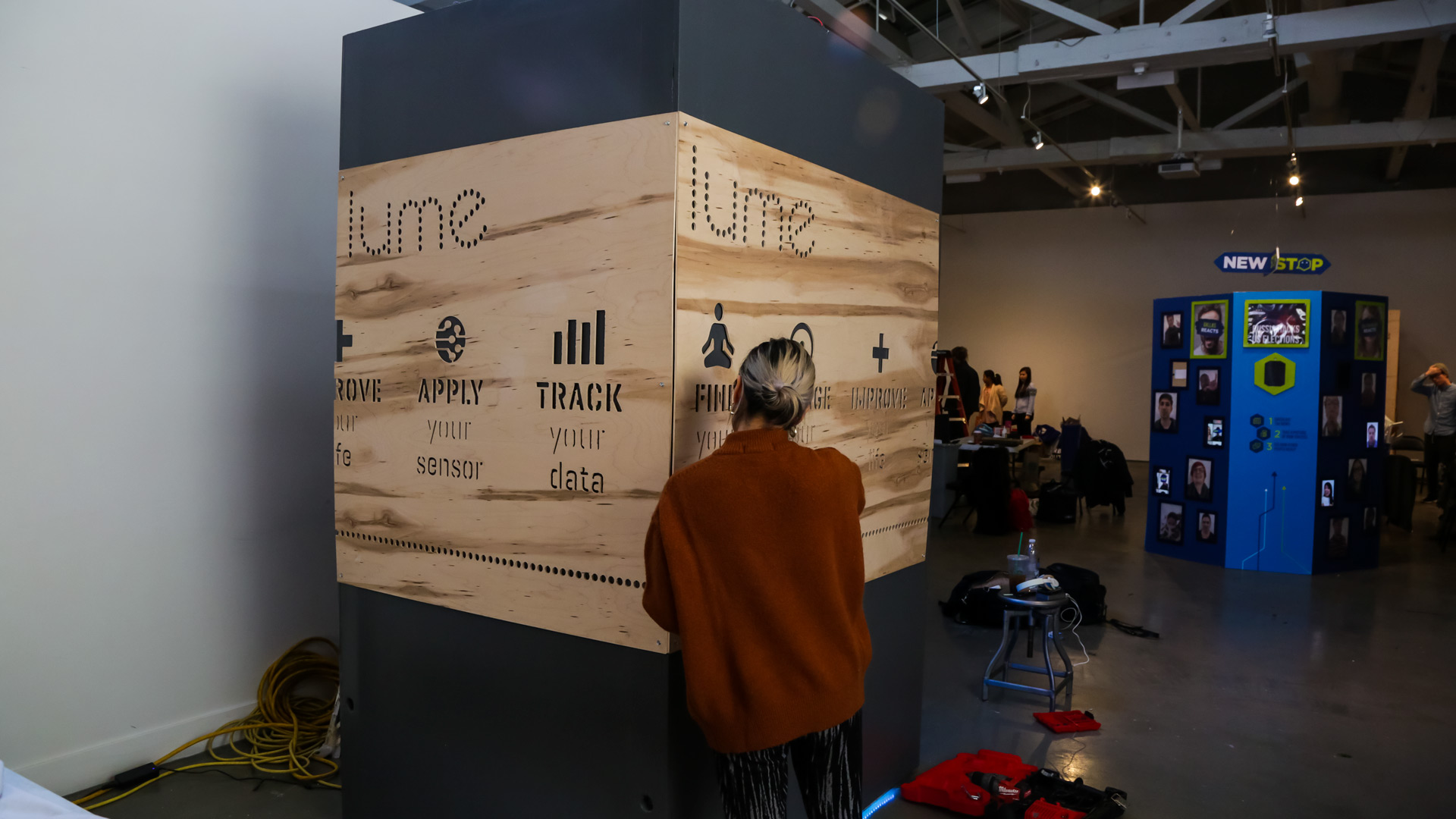 / Lume: Story
Recharge. Resume. Stress is a normal response to our daily lives, but having it define your day shouldn't be. Our smart biosensor tracks your stress level in real-time and alerts you when it's time to take action. The Lume app provides quick and easy-to-follow stress-reduction activities, each designed to address various kinds of stress and give you easy access to Lume experts to support your goals. Forget interpreting the data; Lume learns with you and becomes better at predicting rising stress and cueing the exercises that work best for you. At our Lume locations, new Lume users can learn about our sensors and test them, while existing Lume users can come to recharge, get support and get back on track to resume their life. We at Lume want to automate your stress reduction triggers so you can be a happier, healthier, and brighter you.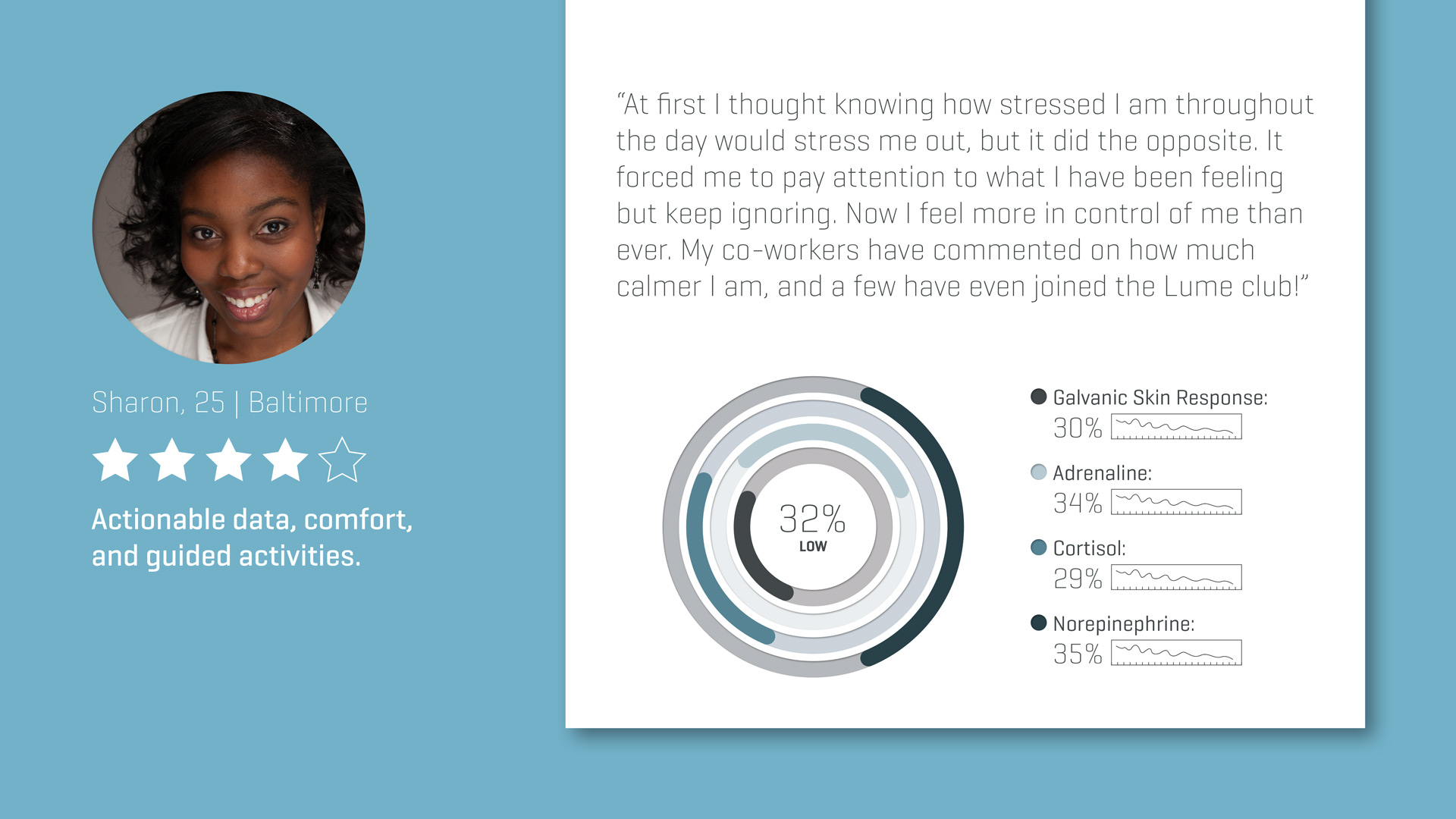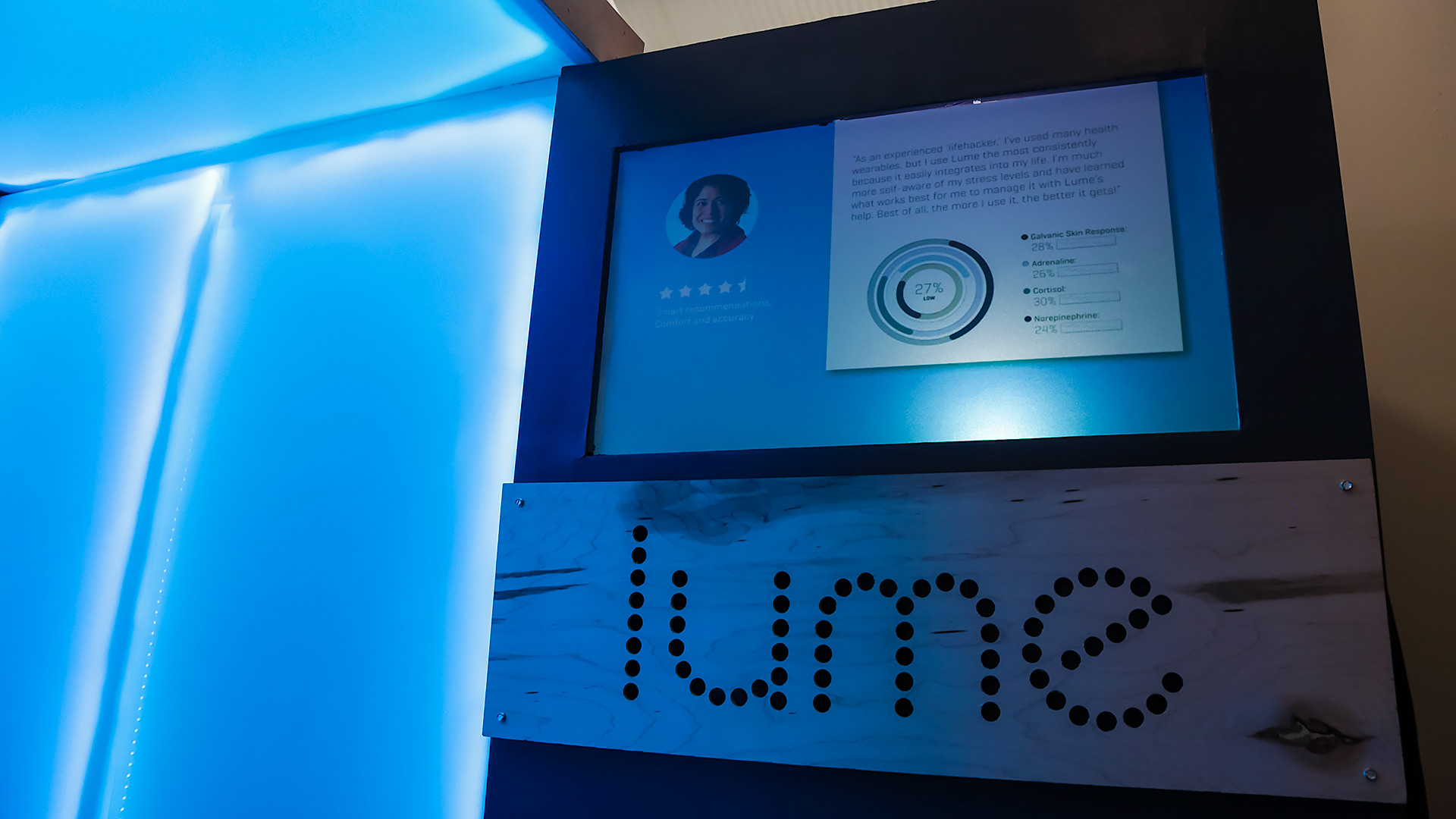 / Design Elements
We used charcoal paint to contrast the raw wood. The psychology of the gray we chose complements our mission to help people recharge, resume. Gray has the following qualities steadfastness, responsibility, accountability, sophistication and enduring. The raw wood in our sign acts as a natural complement to the tech nature of our business and resembles skin texture. External lighting previews the meditation experience and calls customers to come check us out.
Internally, we applied lavender essential oil to the walls and infused the application ointment as well. The lavender smell promotes stress relief. Seating is adjustable and located over fragrant, fresh-cut grass which our research showed was a relaxant. The salesperson wears "Athleisure" style clothing with a lab coat to add credibility. She is approachable and very knowledgeable and is a Lume "superuser." The projection adds credibility by showing statistics and reviews from Lume users. The shelf is an homage to our initial research that showed an expectation of consultation for this type of purchase.
The Lume results card is given to the user after their meditation experience generally showing a reduced stress level.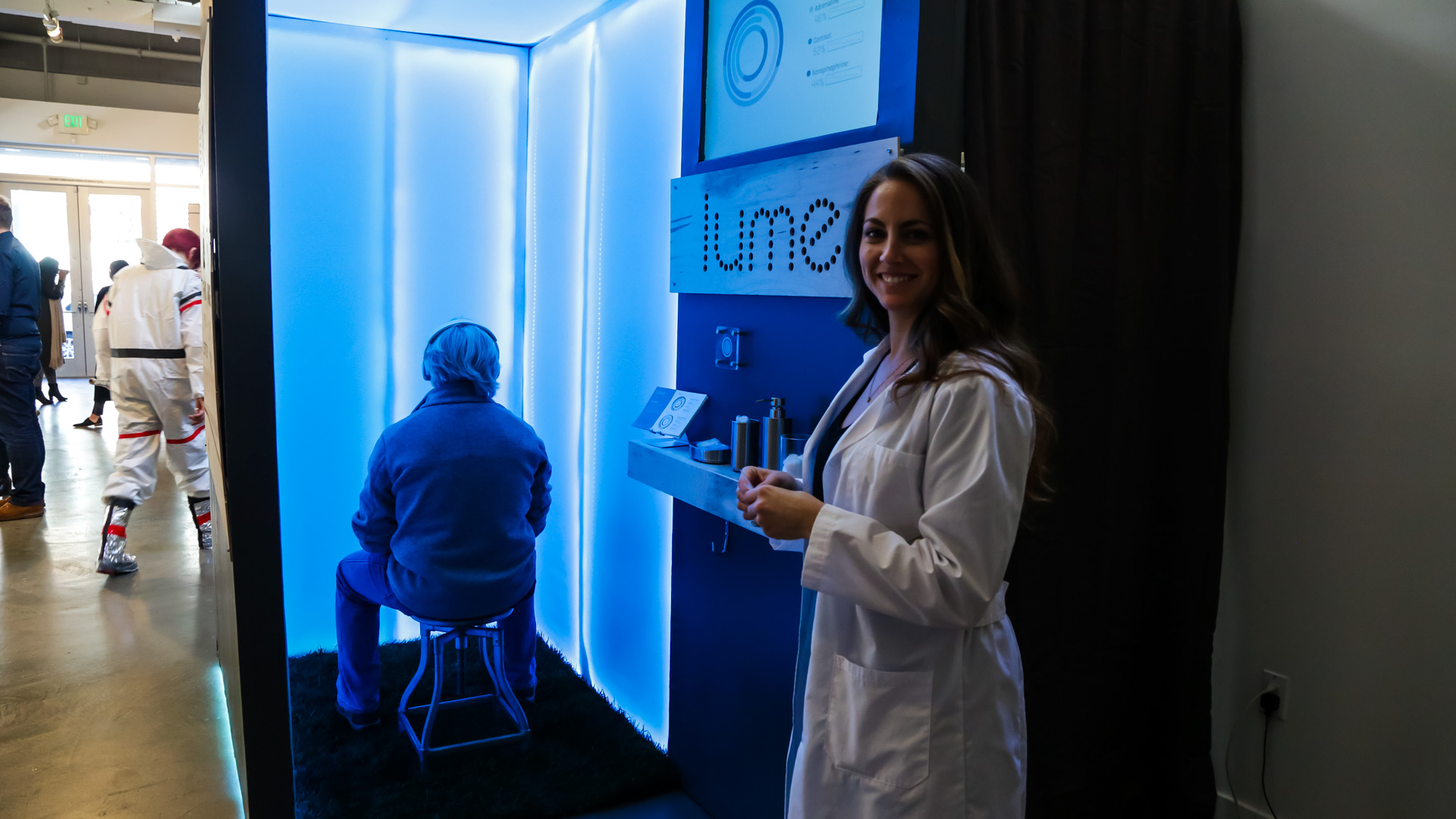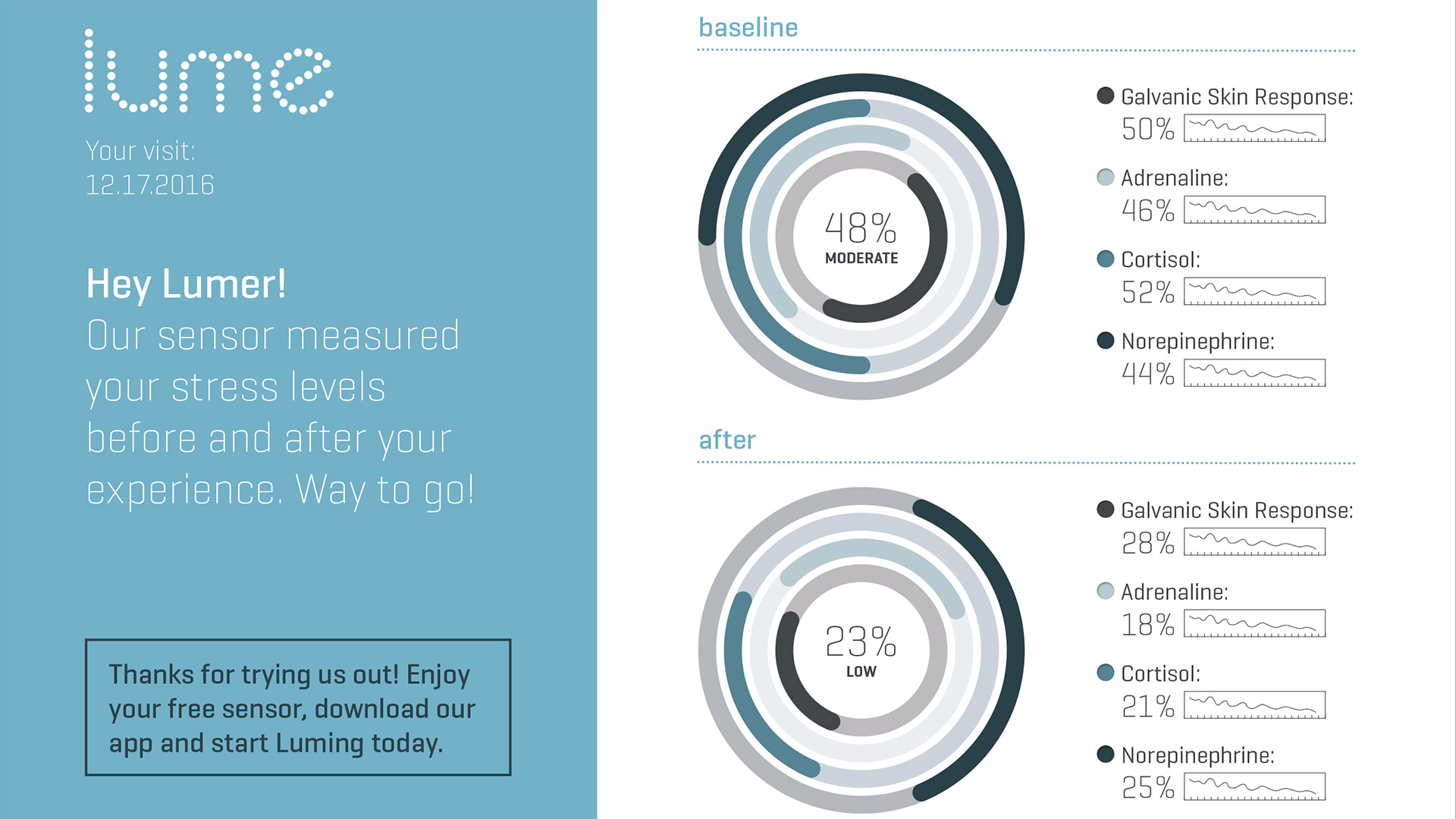 / Tag-Line
• Apply Your Sensor
• Track Your Data
• Find Your Center
• Manage Your Stress • Improve Your Life