Design Research, Project Management, Sustainability
Impact Outpost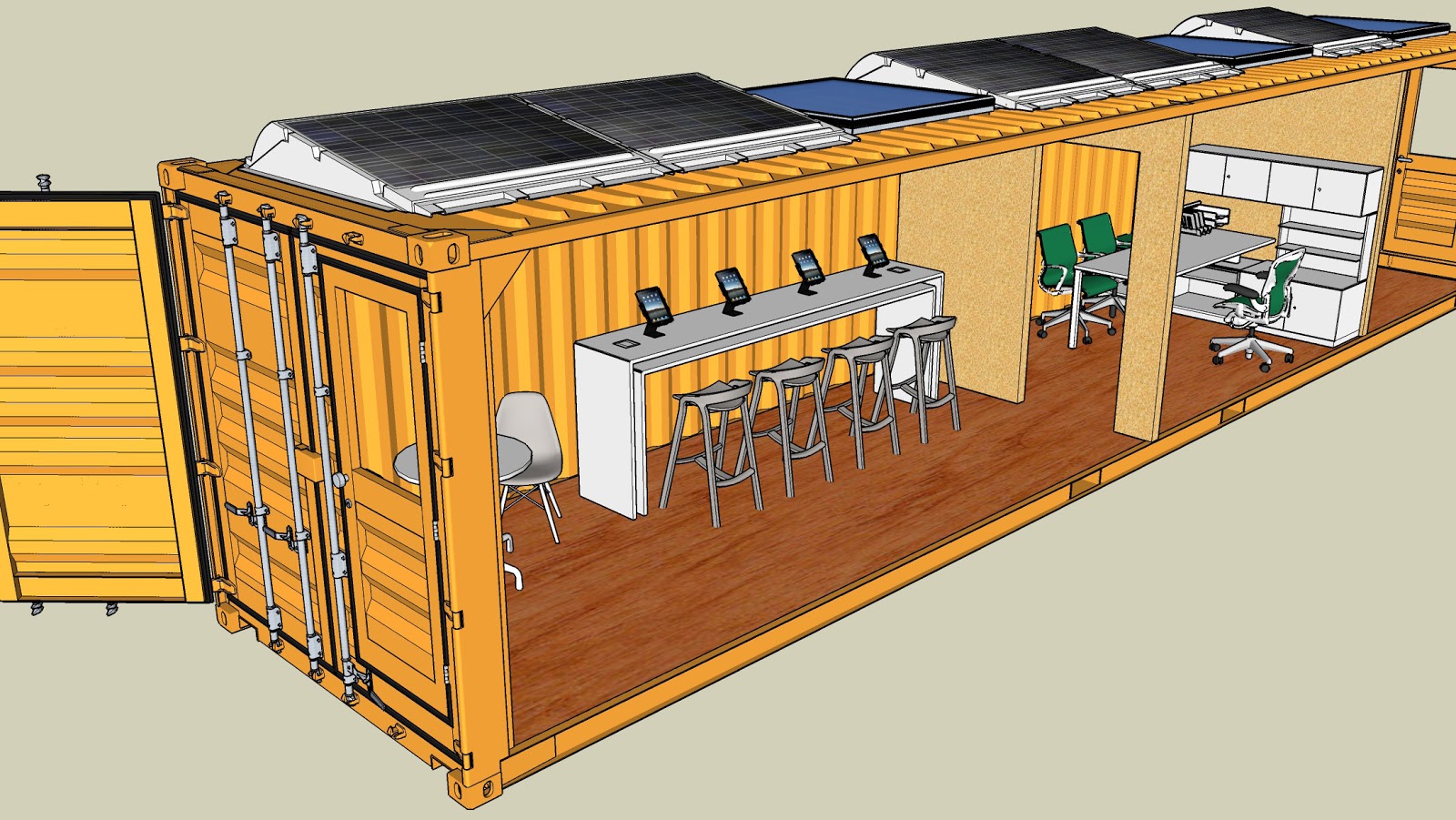 / Impact Outpost
A modular, semi-portable legal aid hub providing free access to legal services to San Francisco residents on limited incomes.
/ Role
Design Research / Project Management / Sustainability Design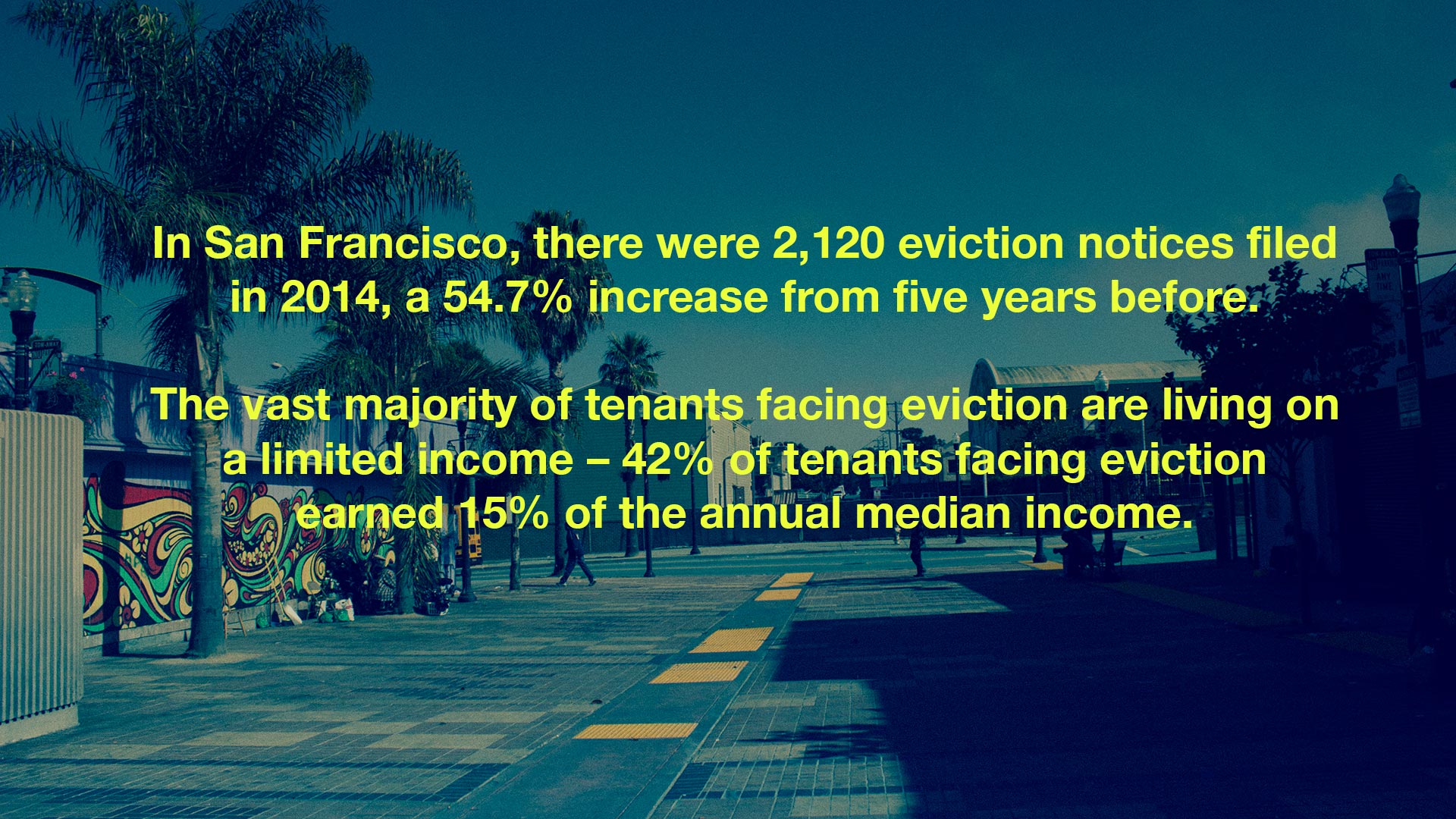 / Design Challenge
How might we help San Francisco renters living on a limited income maintain housing and navigate this complex system?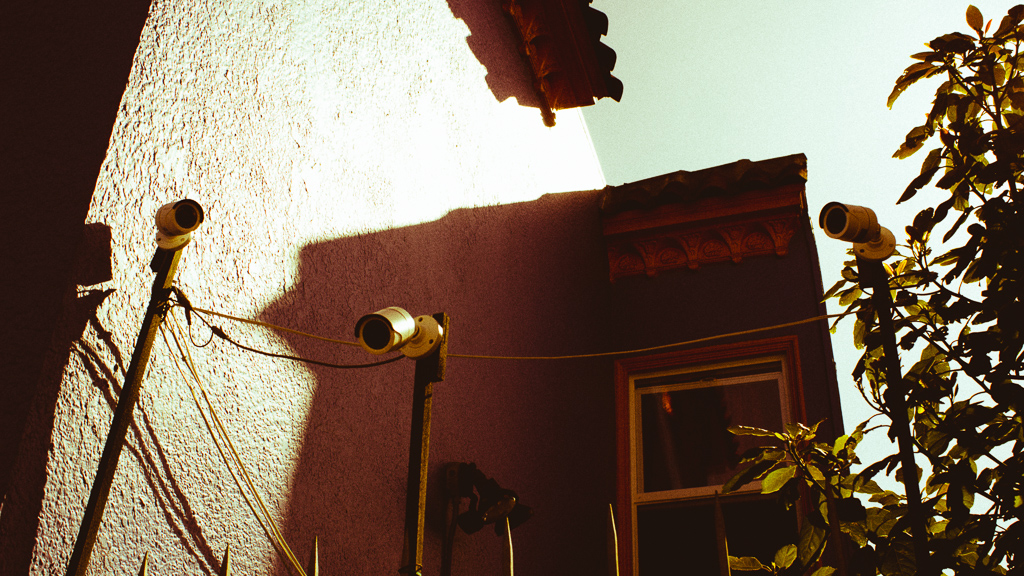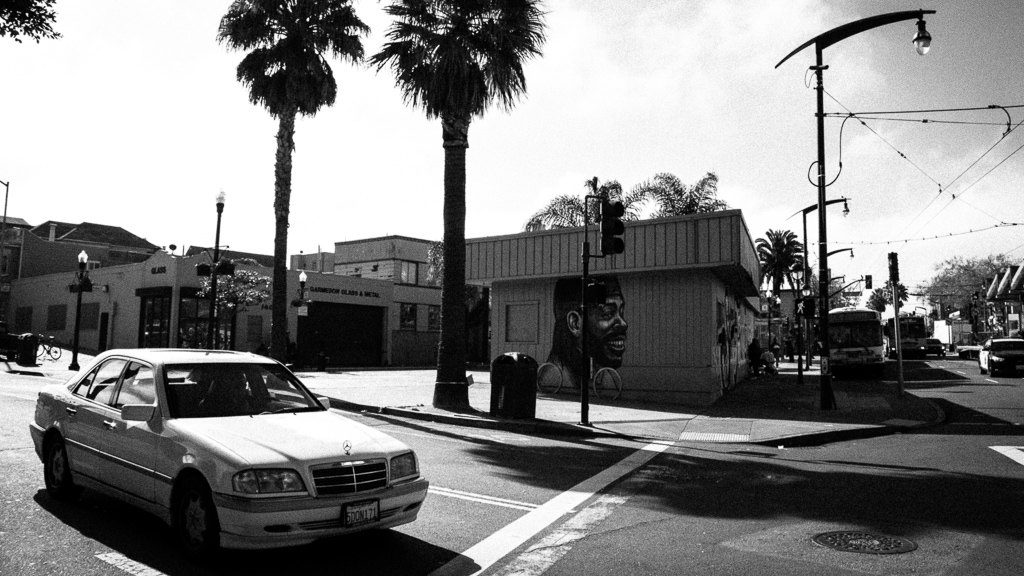 / Research
It's no secret that San Francisco is in a housing crisis. As of October 2015, San Francisco had the highest rents of any major U.S. city. High demand for housing due to an influx of high-tech commerce has put a strain on an already limited housing market. Starting in the 1990's, San Francisco limited the height of proposed developments and made it easier for residents to block proposed developments, thereby limiting available housing to 50% of the demand.
Renters on limited incomes suffer the most in a rental environment like this. San Francisco has strict rent control laws but cunning landlords can circumvent rent control through the Ellis Act that allows landlords to evict rent-controlled tenants by "exiting the market." Our primary research exposed some pain-points afflicting fixed income renters.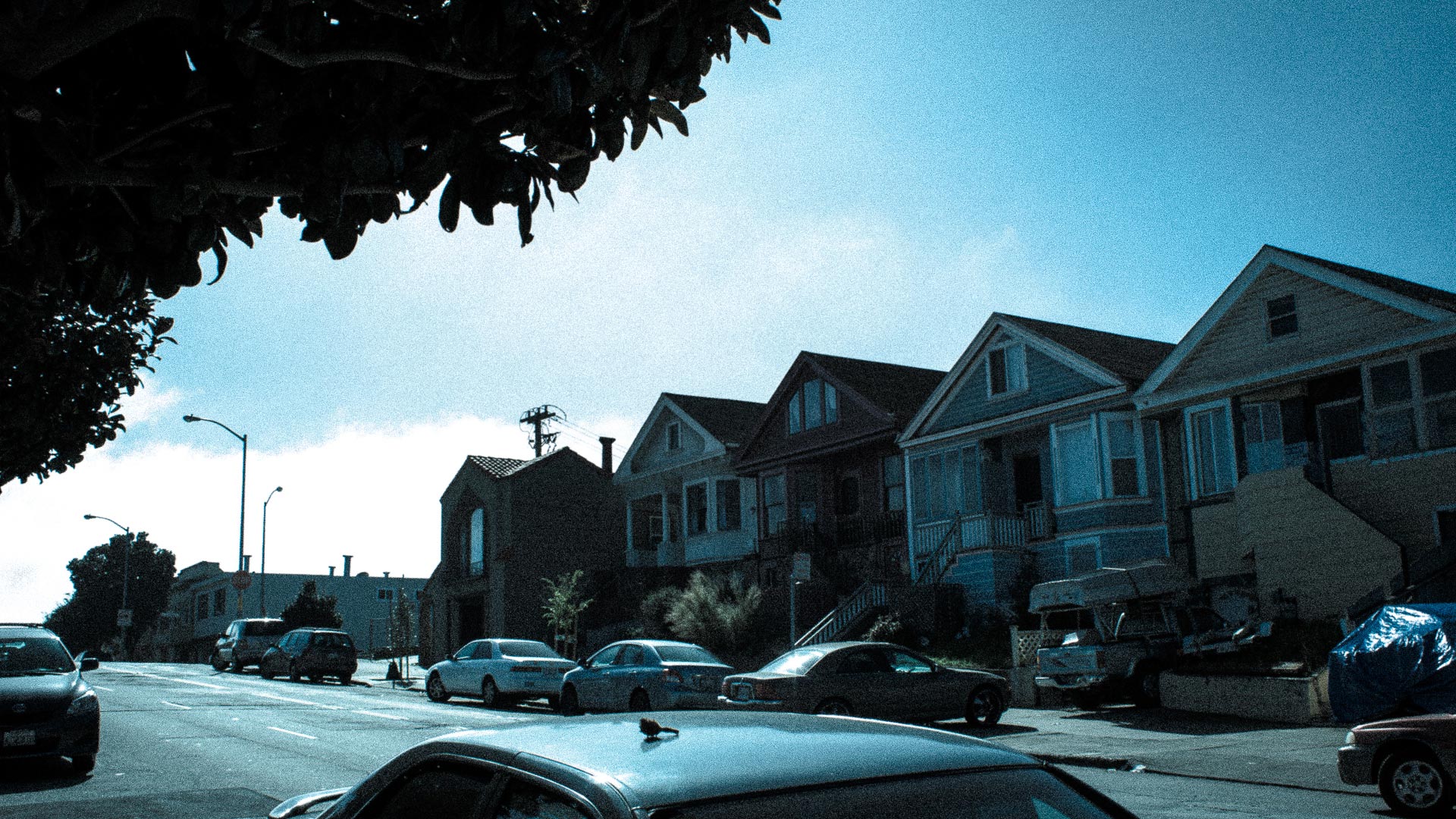 / Needsfinding
Renters felt like landlords are gaming the system by evicting tenants on unfair lease terms, by using confusing legal jargon and for things as simple as clerical errors (especially for those in subsidized housing). Renters believe the rental environment favors gentrification by allowing landlords to evict tenants to "improve" rental properties through renovation.  Many people simply stated that finding housing was a frugal "cat and mouse" game.
Tenants facing eviction who believe they are being evicted without cause are overwhelmed by the complexities of the legal system that moves far too quickly. For most tenants, it is easier and far less expensive to move out than to fight eviction. Most tenants are simply unaware of their legal options.
There are several non-profit organization advocating for fixed income renters. These organizations do a lot and ask for very little. Open Door Legal provides legal aid services for housing law but also, and not surprisingly, other issues that beget eviction such as family law, consumer law, tort law, etc.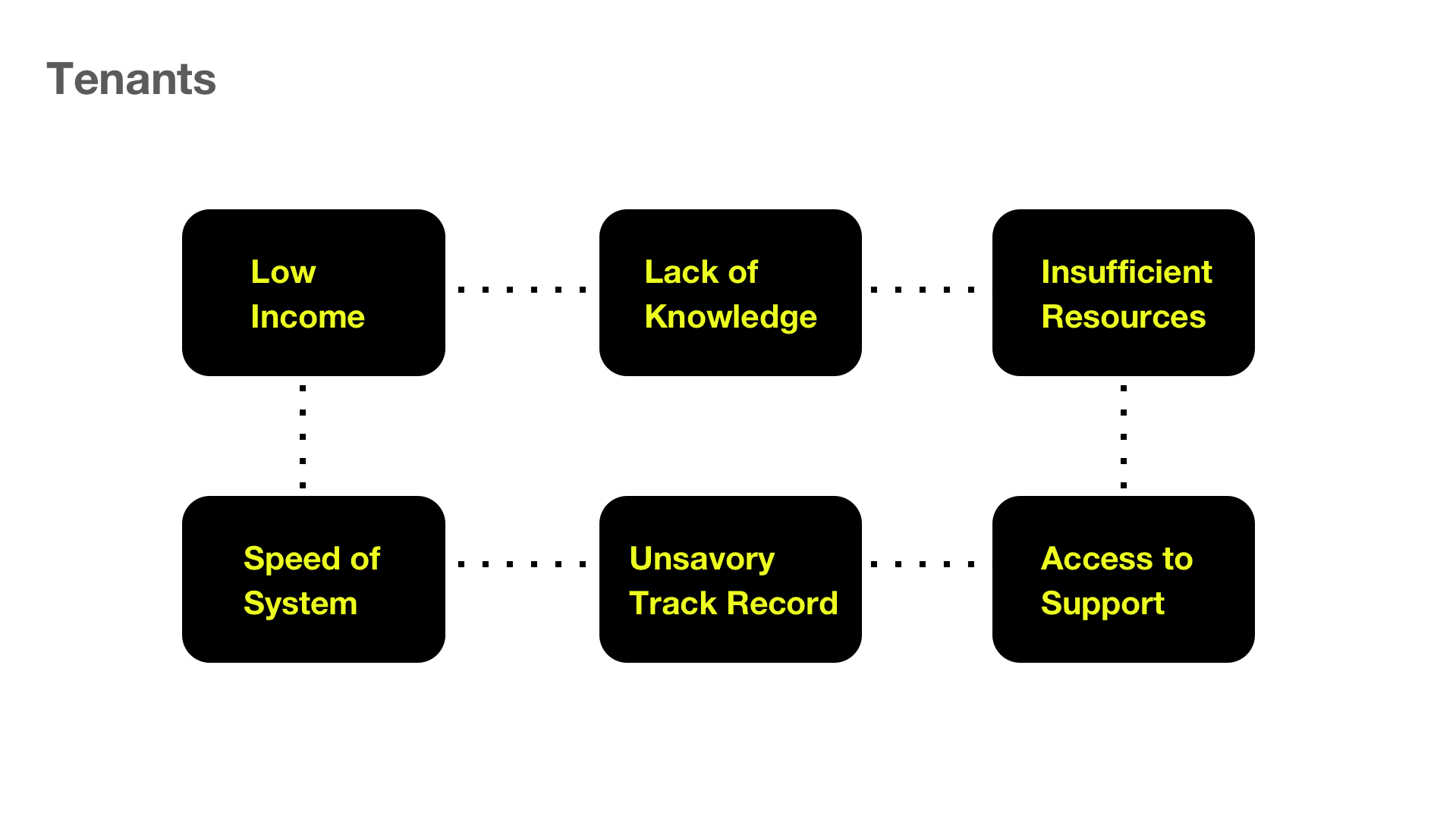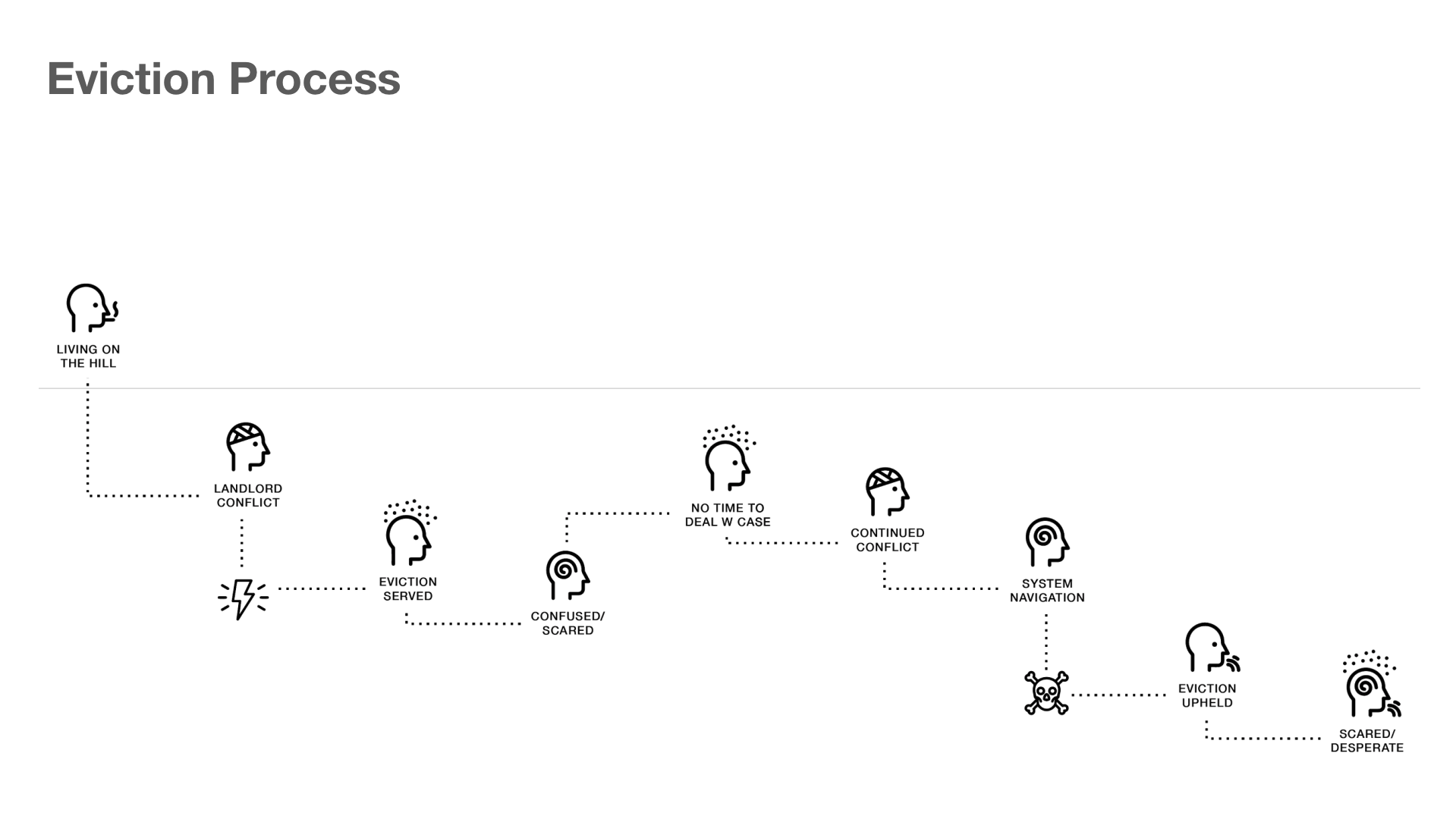 / Opportunity and Ideation
In many housing courts around the country, 90% of landlords are represented by attorneys, and 90% of tenants are not; 33% of Americans cannot afford private legal fees. Of those tenants that went to court unrepresented, only 14% retained possession of their housing, while 55% of represented tenants retained possession. According to Open Door Legal, tenants with representation are 5-10X more likely to retain possession when represented by a competent lawyer that can help them navigate the complex housing system.
We know that Open Door Legal has a strong network of professional law partners, but it doesn't have the physical space to do outreach in any neighborhoods beyond Bayview Hunters Point. Additionally, Open Door Legal is limited to helping people who are able and willing to access their Bayview location.
What if we could provide San Franciscans on a fixed income with legal aid in their respective communities by increasing accessibility?
Open Door Legal works with law students and recent graduates who are interested in gaining experience and/or volunteering their time. Most hear about these organizations through word of mouth.
What if we could provide a highly visible, interesting and inexpensive location that will help attract not only tenants facing eviction but also law students, recent law graduates, and volunteers interested in helping offer legal services?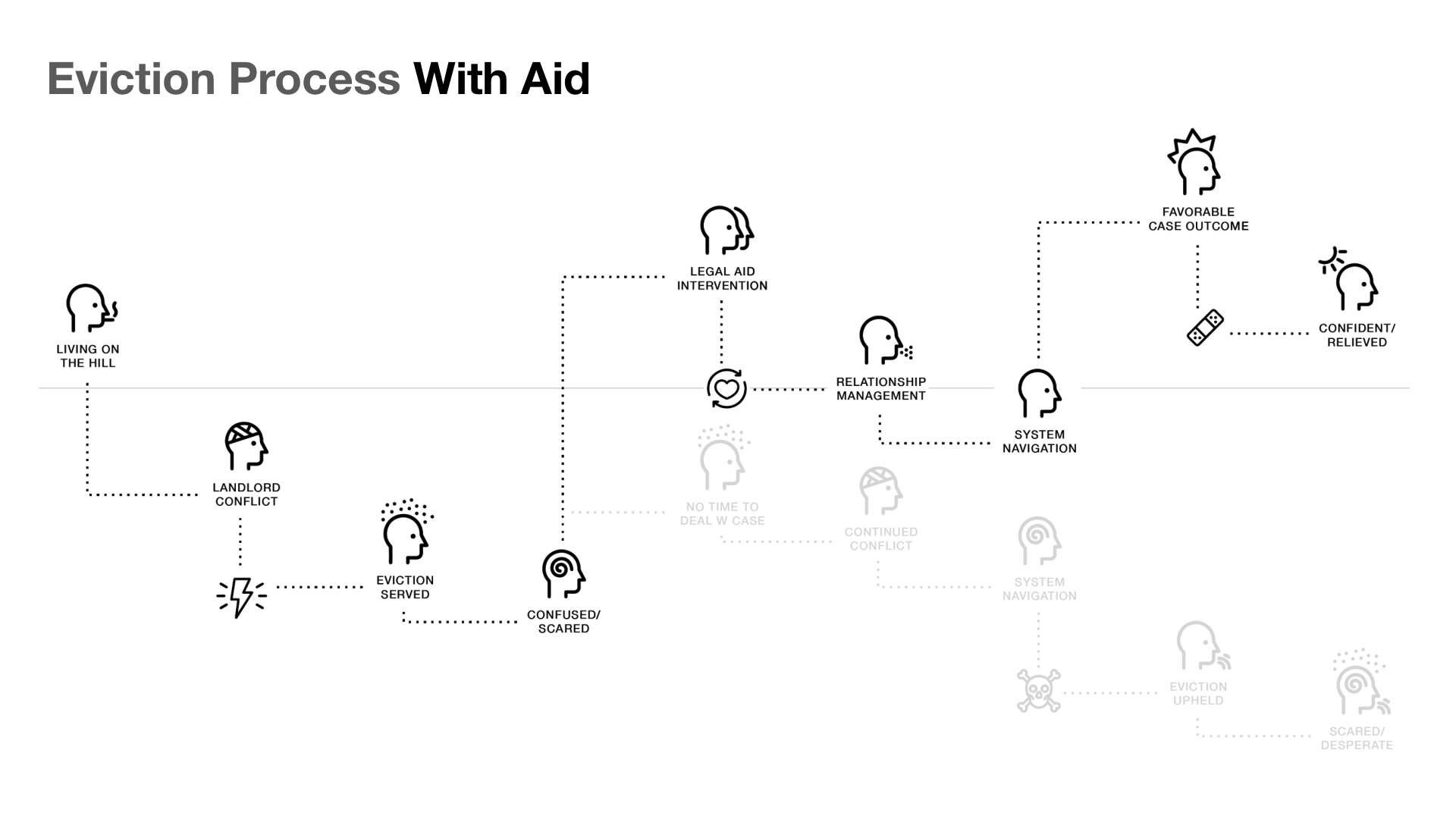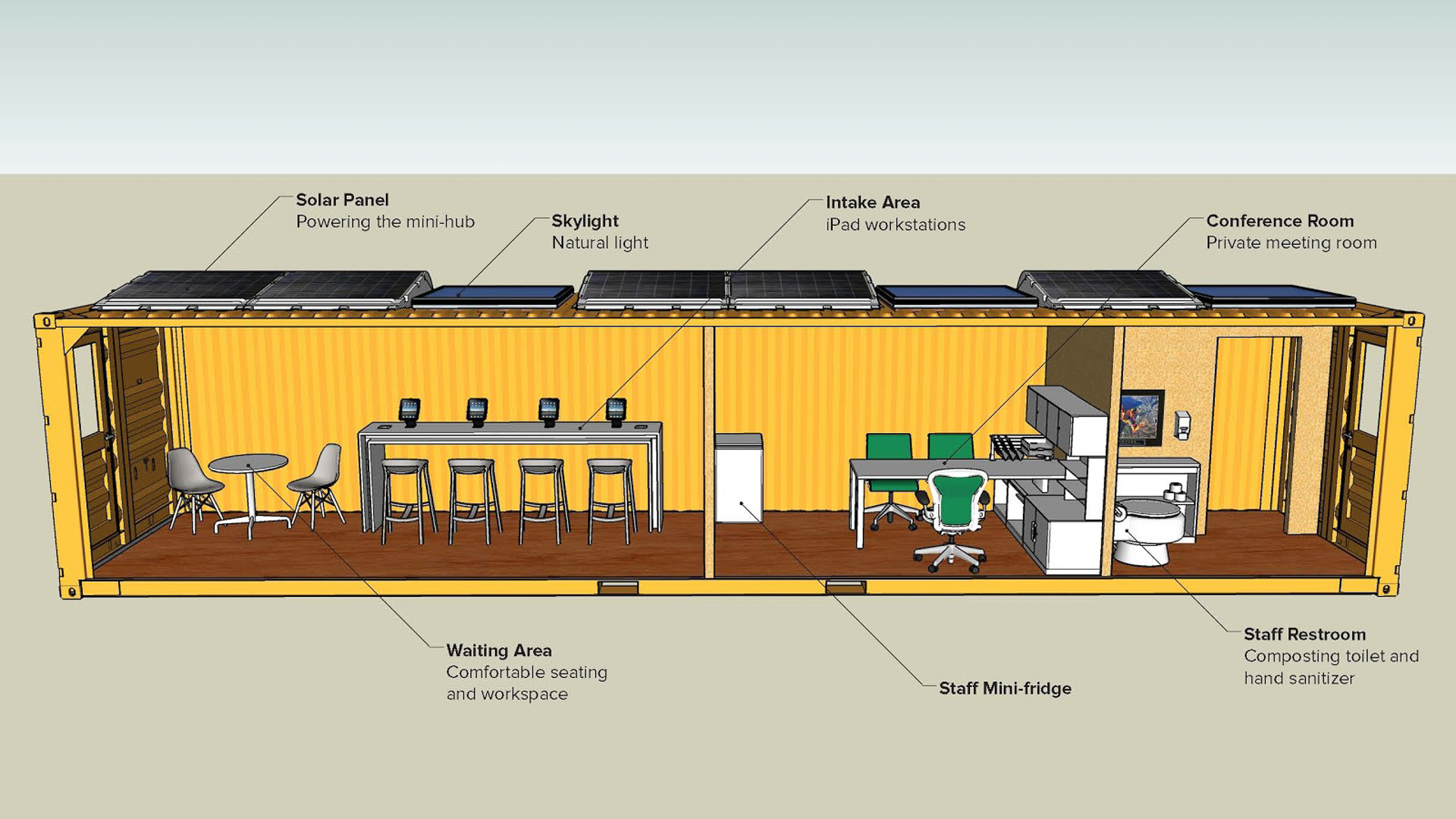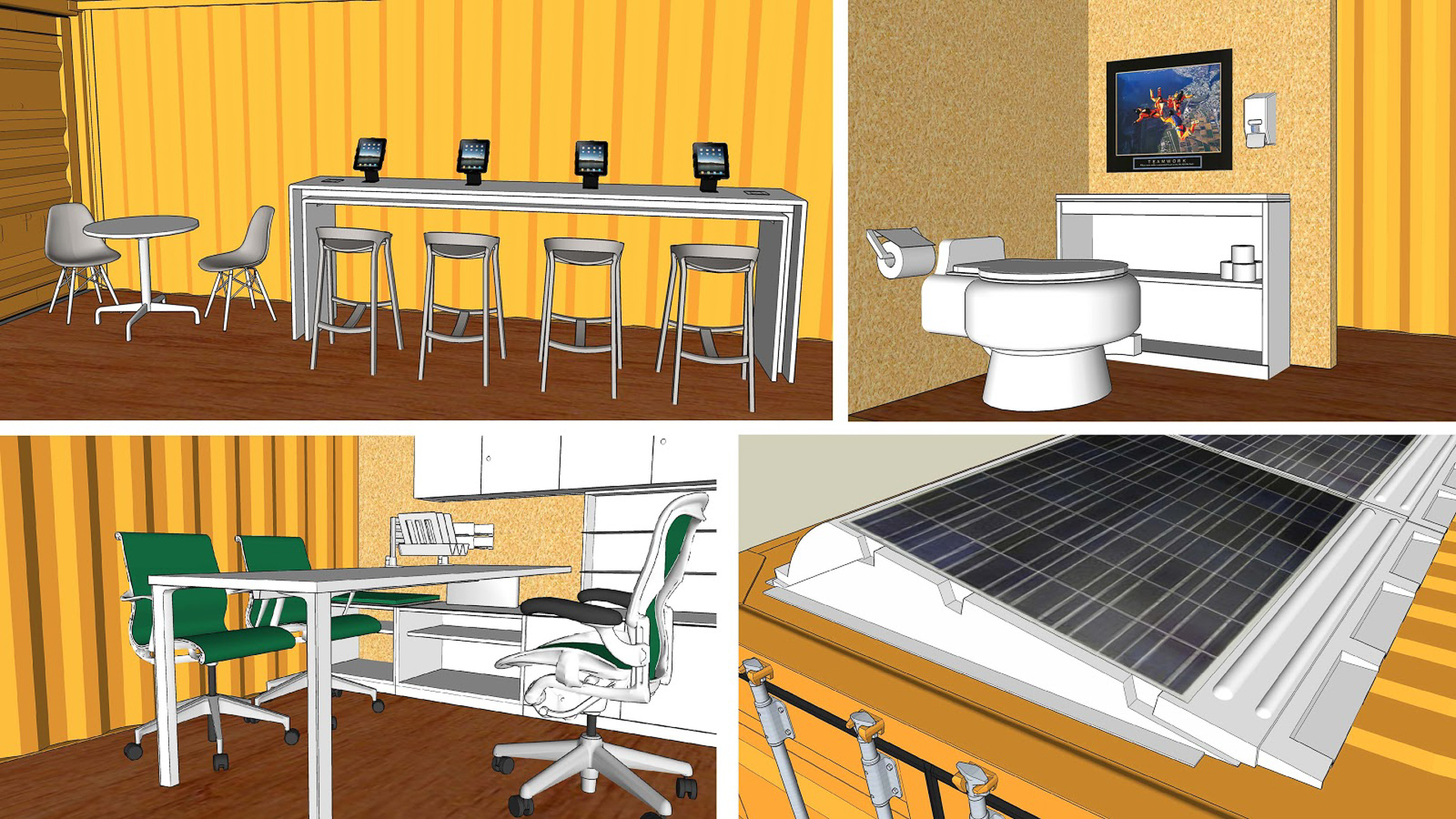 / Impact Outpost
Created in consultation with Open Door Legal, the Impact Outpost is the result of many hours of interviews recorded with tenants and legal-aid lawyers and volunteers. Impact Outposts are modular law offices built from inexpensive or reused shipping containers. Impact Outposts can be placed in any community as a way of expanding the Open Door Legal network bringing much needed legal aid services to renters and at the same time, promoting the need for support through visibility and branding to potential volunteers, recent law graduates and law students.
It is important to help renters deal with evictions proceeding to court but, the vast majority of evictions can be prevented by addressing the concurrent issues of poverty through social services, including job loss, financial literacy, health and disability, access to childcare and social programs. Impact Outposts will also serve as a hub for resources and referrals.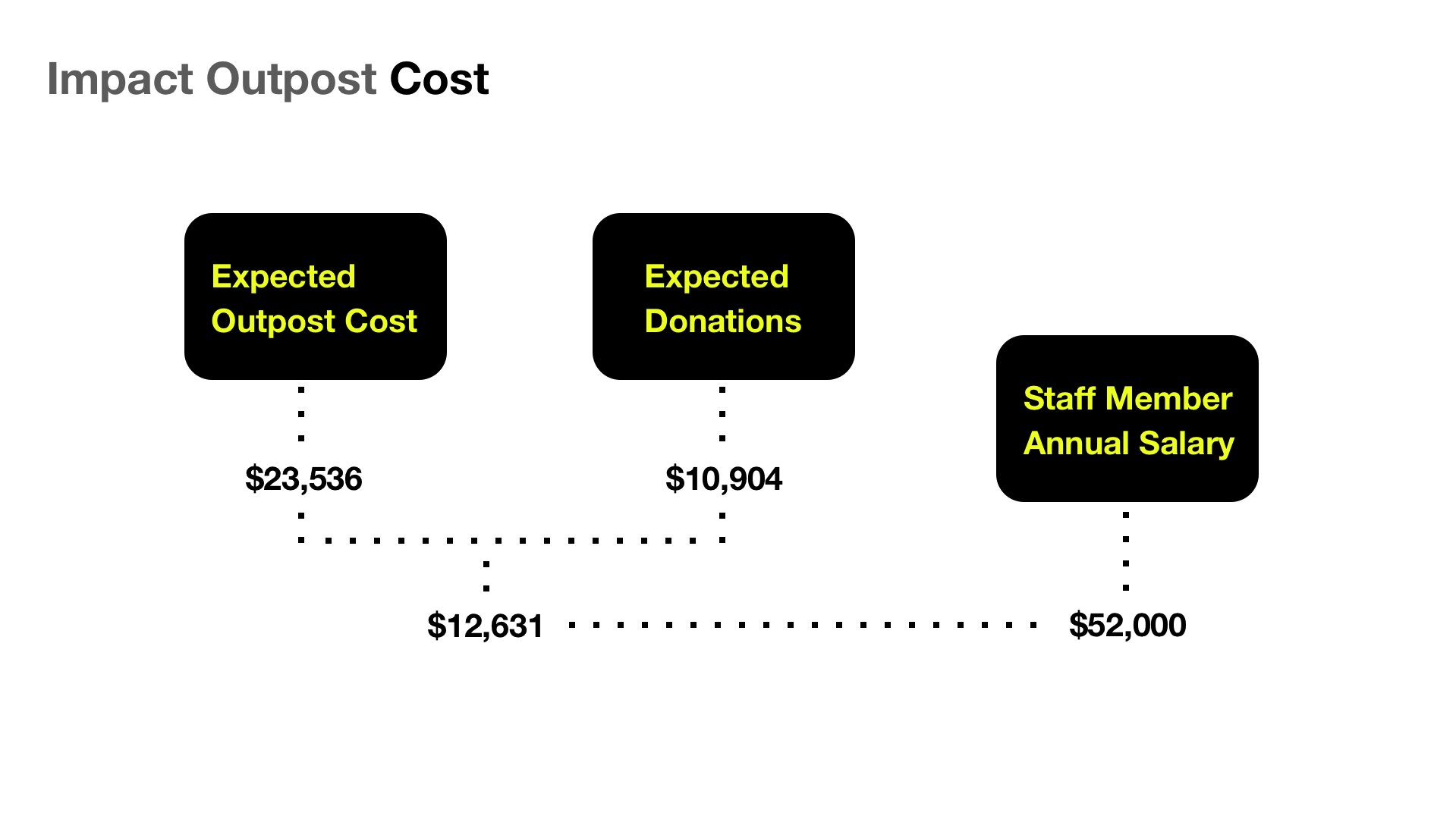 / SROI
Our cost analysis showed that Impact Outposts cost $23,536 to build and approximately $52,000 to staff for one year. The average cost to support a homeless person is $61,000 per year, a cost picked up by the City of San Francisco. If the Impact Outpost can prevent 25 evictions, the City of San Francisco will save $1,125,000 for that fiscal year.